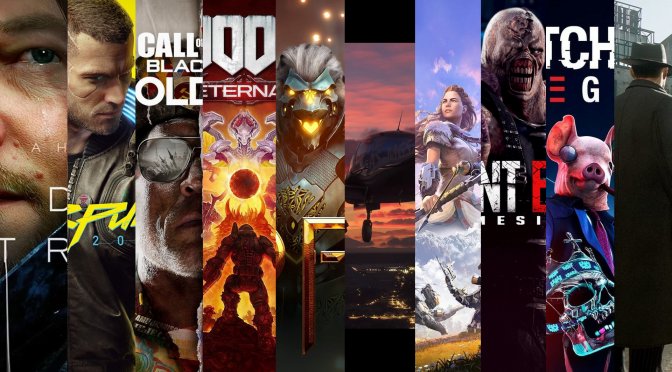 PC gaming has become the mainstay of the gaming industry. PC gaming has evolved so well that a large percentage of gamers world wide are doing it from their personal computers, providing numerous benefits especially in the aspects of portability. However, gaming with PC's has its drawback such as basic requirements of large storage space. An average action game file has nothing less than 60GB in size. This means that some games are too demanding especially when it comes to file size. Here are the top PC video games with the largest file size:
11. CALL OF DUTY: BLACK OPS II (113GB)
This is an FPS action game. It was released on PlayStation 3,Xbox and PC platforms. Treyarch, the game's developer, and Activision, its publisher, released it in 2015. The game received rave reviews from players upon its initial release, particularly for the challenging Zombies mode. Many experts believe that the game itself is the best ever. It is regarded as the best Call of Duty game ever, from the maps to the balance to the special features and everything in between. The size of this game is perfectly acceptable at 113GB, and the multiplayer component of it offers an unforeseen excitement.
10. MICROSOFT FLIGHT SIMULATOR (127GB)
Frequently referred to as Microsoft Flight Simulator 2020, Asobo Studio's amateur flight simulator was created and released by Xbox Game Studios in the year 2020. It is a part of the 1982-starting Microsoft Flight Simulator series, which was preceeded in 2006 by Microsoft Flight Simulator X. The game marks the series' comeback after a 14-year hiatus, with development starting six years before the game's release. It was made available for Microsoft Windows on August 18, 2020, and a virtual reality (VR) version was made available in December of the same year. The player can fly 10 aircraft in the game's normal version, but there are an additional 5 and 10 aircraft in the deluxe and premium versions.
Microsoft flight simulator is a fantastic game. This game excelled because of its wonderful graphics and attention to details, hence its large size of 127GB on PC.
9.  TOM CLANCY'S RAINBOX SIX SIEGE (131GB)
The online tactical shooter video game, Tom Clancy's Rainbow Six Siege was created by Ubisoft Montreal and released by Ubisoft. For Microsoft Windows, PlayStation 4, and Xbox One, it was made available globally. The game heavily emphasizes player cooperation and environmental destruction.
Since the game's 2015 release, Rainbow Six Siege has received several enhancements and updates. Additional maps, operators, and features have been added by the developers. Future updates to this game will also be made by Ubisoft.
Because the maps and operators remain the same even without the HD packs, the game's size increases. With the HD packs, the game's size increases to 131 GB.
8. FINAL FANTASY XV (148GB)
Final Fantasy XV was created and released by Square Enix. It is an action role-playing game. The fifteenth main Final Fantasy game was released in 2016 for the PlayStation 4 and Xbox One, in 2018 for Microsoft Windows, and in 2019 as a launch title for STADIA. The standard size of this game is 85GB. However high resolution pack might appeal better to most gamers and is at a massive 148GB.
7. HITMAN 2 (149GB)
Hitman 2 is a stealth video game and was released in 2018. It was created by IO Interactive and Warner Bros. Interactive Entertainment. It is the follow-up to 2016's Hitman and the second game in the World of Assassination trilogy. It is the seventh significant entry in the Hitman video game series. When Hitman 2 was released in 2018, everyone was talking about it. The game has gorgeous, nerve-racking stages that are extraordinarily lovely. The best aspect is that each of its missions may be bought and installed independently, which is one of its many tasks. In addition to the Silver to Gold upgrade and Episode 2: Sapienza DLCs, these also feature the Miami and Mumbai missions, Santa Fortna, Whittleton Creek, Isle of Sgail, Himmelstein, Miami, and Mumbai. When installed all at once, the DLCs occupy about 149 GB of  storage. Unlucky events and endless killing opportunities abound in games like Hitman 2. Due to the DLC function, players can play the game's precursor. This turns it into a two-for-one offer.
6. RED DEAD REDEMPTION 2 (150GB)
This game was developed by Rockstar games and released in 2016. It is an action shooter adventure and the third entry in its franchise. Even though the PC version of the game was delayed, playing has been anything but monotonous. From taking picturesque horseback rides to engaging in a shootout with rival gangs. 150 GB is adequate for the experience because the game has all a wild west should have to offer.
5.  DESTINY 2: SHADOW KEEP AND CALL OF DUTY: BLACK OPS COLD WAR (165GB)
These are two different games, coincidentally having the same size. Destiny 2: Shadow keep is the fourth expansion for Destiny 2, a first-person shooter video game developed by Bungie and released released on October 1, 2019. On the other hand, Call of Duty: Black Ops cold War, a First-person shooter video game was created by Treyarch and Raven Software and released by Activision in 2020. On November 13, 2020, it became available everywhere. These games are notable because they are visually impressive and very immersive in its gameplay. Both arr capped at 165GB in file size.
4. QUANTUM BREAK (178GB)
The video game is only available on PC and Xbox. It was created by Remedy Entertainment and released in 2016 on Microsoft Windows 10 and Xbox One by the then-Microsoft Studios. The video game is a third-person action-adventure science fiction title. Microsoft needed a fresh intellectual property, therefore the game's original intention was to be a sequel to Alan Wake, but it subsequently changed to a more time-machine-based theme (IP). The game takes up a lot of space on earlier Xbox One consoles despite its stunning visuals. However, it is somewhat forgiving of the PC having just 178GB.
3. AGE OF EMPIRES IV (218GB)
Massive strategy video game Age of Empires IV is a PC-only release by Xbox Game Studios. It is set in the the Early Middle Ages to High Middle Ages. The game can be played efficiently on a high-end PC, but it does require some excellent hardware to run. The game's original size is only 86.2 GB. Even if that is pretty large, nowadays every game pushes such sizes. However, the 4K HDR bundle consumes an additional 132.4 GB of storage space. The download grows to 218.6 GB as a result. Although the file size is intimidating, the game is fantastic.
2. CALL OF DUTY: MODERN Warfare (231GB)
Another call of duty? Call of Duty is actually reputable because of their sizes. 2019 saw the release of Call of Duty: Modern Warfare, which had been intensely anticipated. The game's setting is in the present day since, as suggested by the title, it centers on an odd partnership between a CIA operative, the British SAS, and Urzikstan rebels as they fight Russian invaders. Multiplayer and Special Ops modes are included in Modern Warfare. The content of the game is extensive. It has game modes for Campaign, Multiplayer, Spec Ops, and Survival. A stunning 231 GB of your storage space is consumed by all of this and Warzone.
1. ARK: SURVIVAL EVOLVED (271GB)
This game dethroned CoD as the PC game with the largest size. It is a large survival video game with an emphasis on action-adventure gameplay. It was developed in 2017 by Studio Wildcard. Players are stuck on an island with dinosaurs and other ancient enemies when the game begins. The players must battle powerful threats from the past as well as other human players who are out to kill them for treasure. Since it's a survival game, there are numerous DLCs that range from skins to brand-new animals. With all these DLCs installed, the game might use an astounding 275 GB of your hardware. As a result, ARK: Survival Evolved is the largest game available for download right now. Massive!