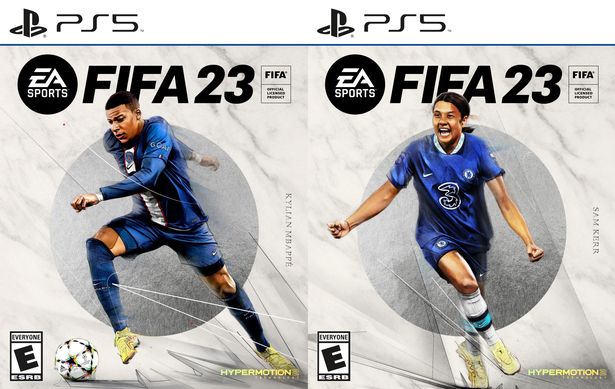 It's almost that time of the year. That time where we anticipate the yearly release of some of our favorite football games like eFootball and FIFA. However, there's news yet to come from Konami and eFootball whereas FIFA have already started making waves. Today, we bring you news about FIFA 23 and all there is to know including the official release date.
FIFA 23-THE WORLD'S GAME
Later this year, FIFA 23 is expected to release. With the promise that it will be the most connected, inclusive, ambitious, and overall biggest entry yet, EA is marking its final game to bear the FIFA label as we earlier reported that due to EA Sports' ending affiliation with FIFA, the game will be known as EA Sports FC. Read also: EA SET TO PART WAYS WITH FIFA; FIFA FRANCHISE TO BE RENAMED.
FIFA 23 promises to introduce innovations never seen in the world of videogame football, whether you're on a pitch or behind the scenes in career mode making various decisions. It will be available with crossplay 1-v-1 modes between versions on PlayStation 5, Xbox Series X|S, and PC, as well as PlayStation 4 and Xbox One. With improved physics, graphics, and for the first time, women's club football integration, including a playable women's FIFA World Cup, this FIFA is taking it up and displaying EA's evolution with the series.
Making FIFA 23 the most authentic installment in the series' history is one of the game's primary goals. EA has improved its HyperMotion 2 motion capture technique to achieve this, giving players a more realistic appearance than ever. With the help of this technique, over 6,000 lifelike animations from real match captures can be added to the game.
EA showcased a number of features made possible by this ground-breaking technology. Plays are more engaging thanks to augmented reality broadcast replays in FIFA 23. Additionally, the locations now feature hyper-realistic pitch surfaces and a more upgraded stadium setting with the most fan yells and animations in the series. In FIFA 23, there will be more than 19,000 players, 700 teams, 100 stadiums, and 30 leagues.
There are many game modes in FIFA 23 where you can test out all the aesthetic and technical improvements. FUT Moments is one of those modes, allowing you to build your own team out of fresh ICONS, FUT Heroes, and anyone else you can think of using a new Chemistry System. A game that already allows for a lot of freedom and creativity gains even more with this updated version of a classic mode.
By participating in the FIFA World Cup from the comfort of their homes, gamers may also make history. The FIFA World Cups for men in Qatar in 2022 and for women in Australia and New Zealand in 2023 will both be playable.
Additional ways to interact with FIFA 23 are introduced via Pro Clubs, Volta Football, and Career Mode. You may add your own flair to the game in Pro Club mode with additional personalization, Drop In improvements, and new bonuses. By enabling you to display your Avatar alongside friends and other members of the community in improved Volta arcades, Volta Football gives the game additional style points. Create your own player, manage some of the biggest names in sports history, and play a whole season in Career Mode. Additionally, it debuts new playable highlights for the FIFA franchise.
These updates demonstrate why EA refers to FIFA 23 as "The World's Game."
EA has released the reveal trailer for the upcoming game. You can watch the trailer below:
From the trailer, you can see that there is a lot to be excited about.
FIFA 23 COVER
Kylian Mbappé has appeared in the last two games, and in a bit of a surprise, he will also be on the cover of the magazine this year. Sam Kerr, a forward for Chelsea, is the other player included. Given that FIFA 23 will feature club teams from women's football for the first time, Kerr's appearance is important as it is the first time a woman has been featured on the cover of a FIFA game.
RELEASE DATE
As announced on July 20th, the game will be released on September 30th, 2022 which is just a month away.
Indeed, these reported features and updates raises the level of anticipation. I am sure that FIFA fanatics will not hesitate to grab their copies as it is already available for pre-order.